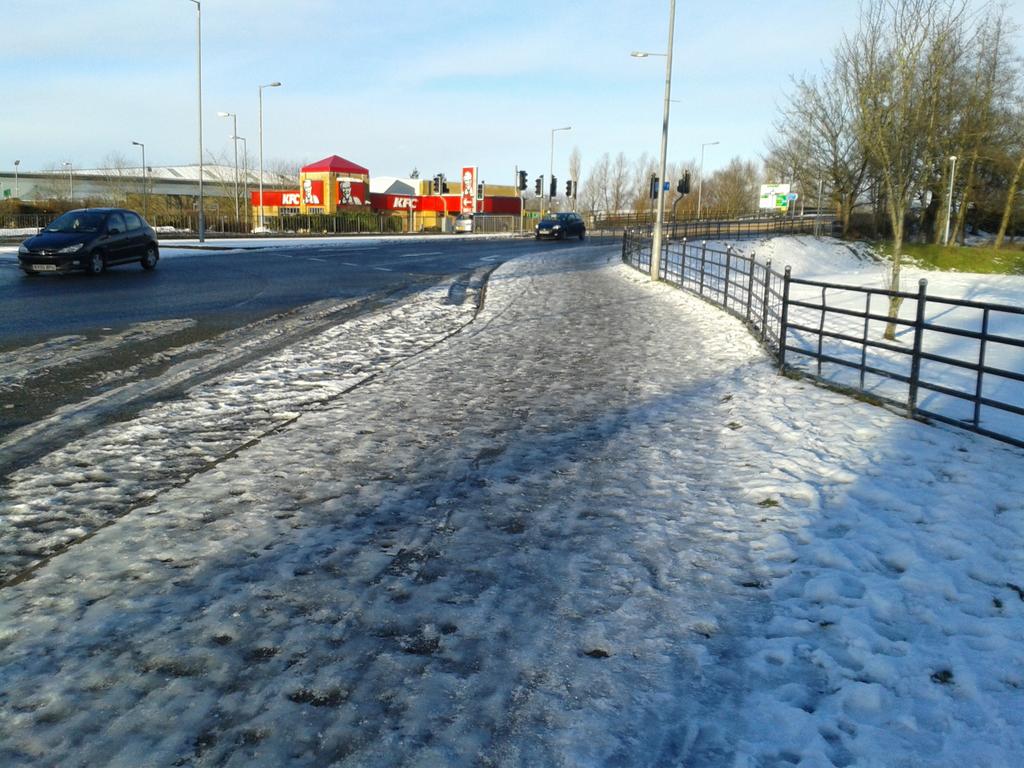 With winter roaring back after a mild and wet December, something that's of pressing importance to both pedestrians and cyclists is winter maintenance: the unglamorous everyday but crucial matter of clearing snow and ice away from the footpaths and cycle routes.
All too often, while the roads get gritted and cleared as a matter of routine, the places where people walk or cycle are either left to voluntary efforts or just left covered in snow and ice, often to the point that people end up walking in the road to avoid falling over. This is especially a problem for older people who are vulnerable to falls, or just suffer from the isolation of being trapped in their homes. Meanwhile those who cycle are left with the choice of negotiating rutted icy paths, or taking their chances with the traffic on the main roads
As blogger Darkerside points out, it's what happens after the infrastructure gets built (often with external money), the ribbons have been cut and the fanfare has passed that shows a council's real commitment to walking and cycling.
We did a little twitter survey among our followers to see which local authorities were really putting their money where their mouth was when it came to active travel. The results show something of a mixed picture
Edinburgh, whose commitment to spending a proportion of its transport budget on cycling includes maintenance, has been gritting its paths since 2013
Inverness has footway sweepers
and mini gritters
East Lothian are keeping on top of the pavements in Dunbar
Contrasting picture between East Dunbartonshire and Glasgow
Dundee has a plan 'on paper'
There's a mixed picture in Dumfries & Galloway
But apparently nothing in the Borders
Or in Aberdeen
If your council is one of the ones that doesn't prioritise active travel, there are things you can do. Long term, the key is getting footpaths and cycleways included in your council's winter maintenance plan – and the best way to do that is to let your councillors know they should. Email them, or invite them out to see the conditions in your area for themselves – and don't let 'there's nae money' be the answer. Remind them how much it costs to look after an elderly person with a broken hip, and see whether some solution can't be found. In the short term, councils will often respond to individual requests to clear paths, so ring in the ones that affect you the most, as soon as the snow falls (once it's packed down it may be almost impossible to clear)
Not every pavement and path can be treated, of course, just as not every road will be. So you can also take action yourself: there's nothing to stop you clearing the pavement outside your own house, or beyond, and some community councils have voluntary programmes set up (see this one from Dumfries and Galloway council – which also has helpful advice on safely clearing snow and ice ) – see if you can help out, or if your local community hasn't one in place, then set one up yourself.
In short, winter snow and ice needn't stop play, or drive us all back into our cars. And if you want a little inspiration of hardy cyclists braving all weathers, try the hashtag '#VikingBiking' to see what can be done …